Professional Holiday In-Home Decorating and Take Down
Get Organized! has been decorating DFW homes since 2007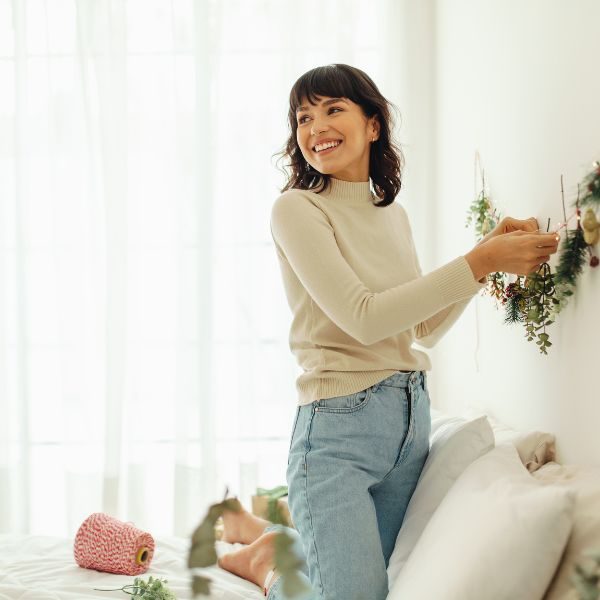 Get Organized! can decorate your entire home for Christmas (or any holiday) or just a few key places such as your Christmas tree, mantel, or stairs. We pull your decorations out of the attic or storage and create a design based on a pre-determined theme. Our organizers have an eye for style and color and will take the stress of decorating off your shoulders.
When the project is complete, our organizers take pictures of the results so that the same look can be achieved the following year. If requested, Get Organized! will send a team to return to your home, take down the decorations, and return them to storage.
Having a dinner party and needing an organizer to clear the clutter, decorate, gather china and stemware, and set up for the party? Get Organized! offers an extra set of eyes for a beautifully organized party and an extra pair of hands to reduce the feeling of being overwhelmed.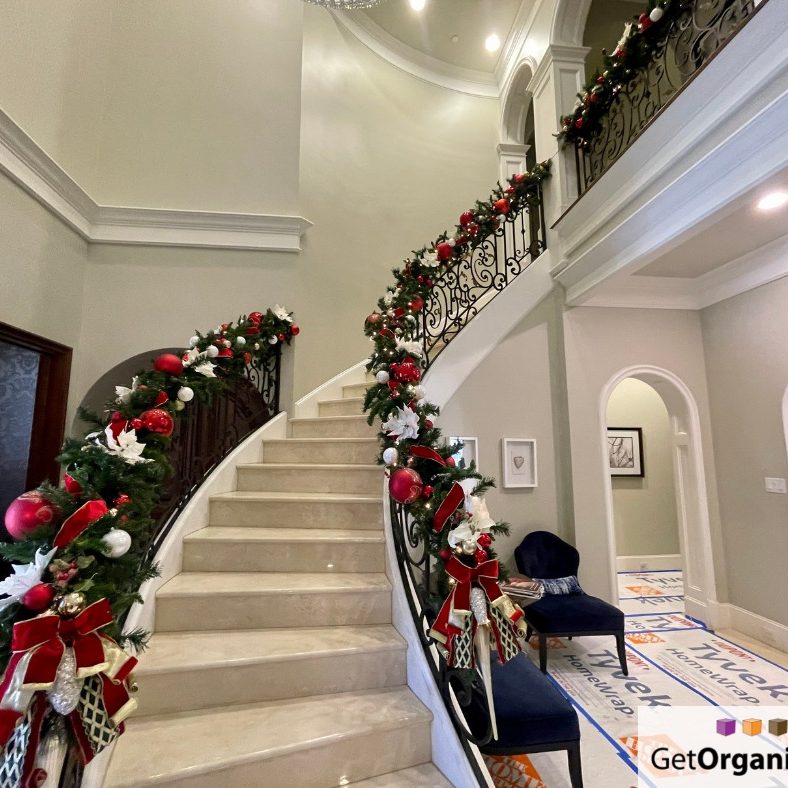 Christmas Decorating
Let Get Organized! install and take down your décor every Christmas season!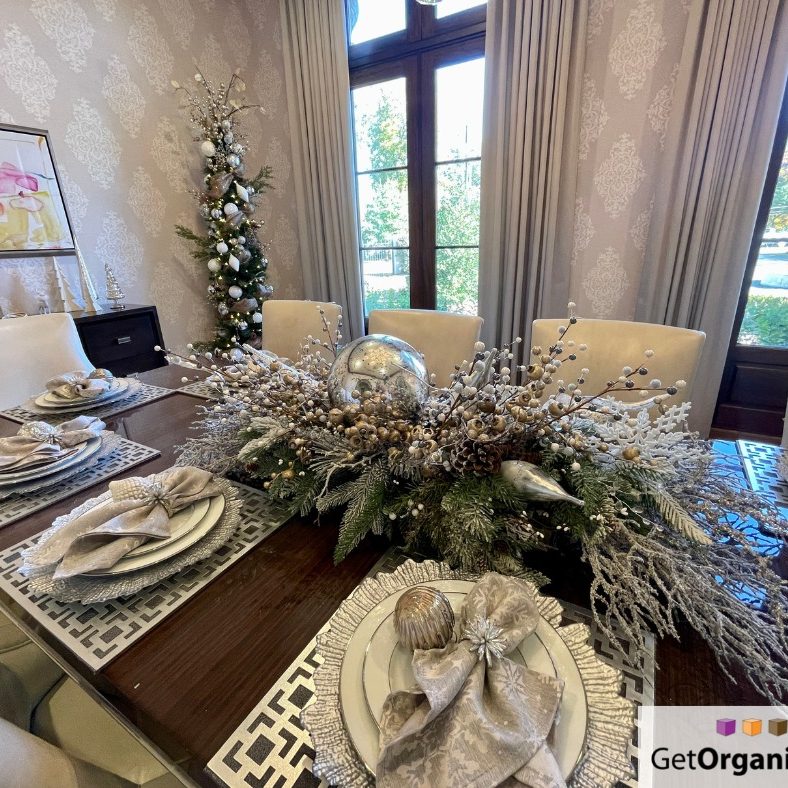 Dinner Party
We can decrease your stress and help you get ready for your special dinner party.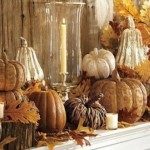 Fall Decorating
Our décor experts will bring the colors of fall into your home with festive decorations!
Holiday In-Home Decorating Services
Schedule your FREE phone consultation with our office
Holiday In-Home Decorating - Our Process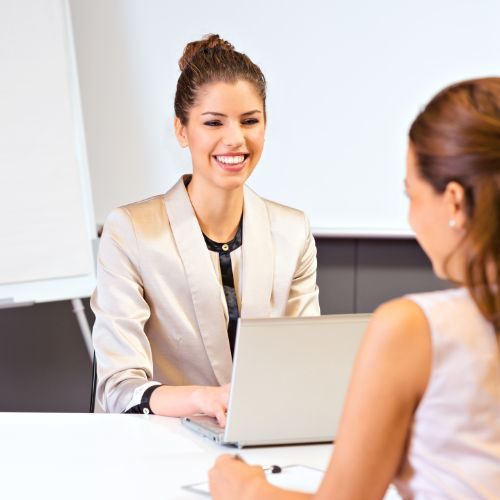 Decorating Consultation
Our Decorating Consultation starts the process of turning your home into a holiday to remember. During this appointment, our décor specialist will discuss your décor style and how you will use your home during the holidays. They inspect decorations you already own and want to incorporate in the current season, and/or suggest new ideas to make your home sparkle. Ready to spruce up your outdated Thanksgiving décor or want a totally fresh look for your home for Christmas? We can work with you to determine your new style and even do the shopping for you. If you choose to have us take down your decorations and store them for the next season, recommendations will be made at the consultation for storage containers and a storage plan. 
Upon arriving at your home for your consultation, our decor specialist might ask you to have paper and pen ready to take notes. Afterward, you can make the decision to use our suggestions and do the work yourself, or you may choose to hire us to do the work for you, often with better and faster results. Keep in mind to Get Organized! books weeks out, so it is a MUST to get on the schedule as soon as possible. If you have a special weekend and you like to have your home decorated and undecorated, consider scheduling your Fall or Christmas Decorating Service early in the calendar year.
Depending on the size of your home and the amount of decorating you would like done, decorating can normally be done with two decorators in one eight (8) hour per day, with takedown usually managed in a five (5) hour session.
Note: When booking a Décor Consultation, we will obtain your credit card information and bill a $200 non-refundable deposit that will be applied to your consultation and services or to your services if there is no consultation. Additional transactions for an unpaid balance will only be charged with your authorization or per our cancellation/no-show policy.
Note: At the consultation, all decorations must be down from the attic and accessible for our décor specialist.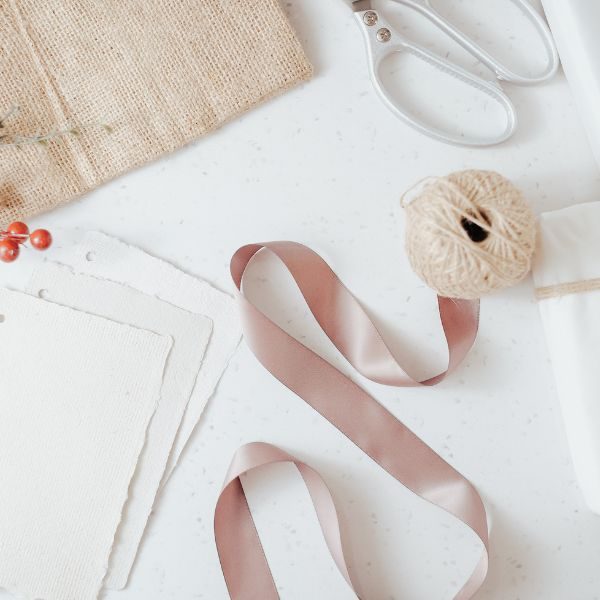 After the Consultation
At the end of the consultation, our clients often choose to schedule a day to decorate the inside of their home for fall or Christmas based on the suggestions of the decorator.
The décor specialist and the client will have already discussed if shopping is required and what budget the client is comfortable with spending. Our decorators tend to lean on the frugal side when shopping, but we shop for any taste, style, and budget. We want to get you the best products for the best prices. If the client is doing the shopping, all products and supplies must be bought prior to the workday. This will allow our decorators to be efficient with the time allotted.
Requested items might include containers, greenery, ribbon, ornament balls, chargers, lights, serving trays, hardware, and more. If you prefer, we can shop at a cost of $50 per hour plus mileage and the cost of the items. Hourly rate is charged during travel time.
Note: All Christmas trees must be pre-lit. In rare cases we may make an exception. This policy is due to the lengthy amount of time it takes to professionally light a tree.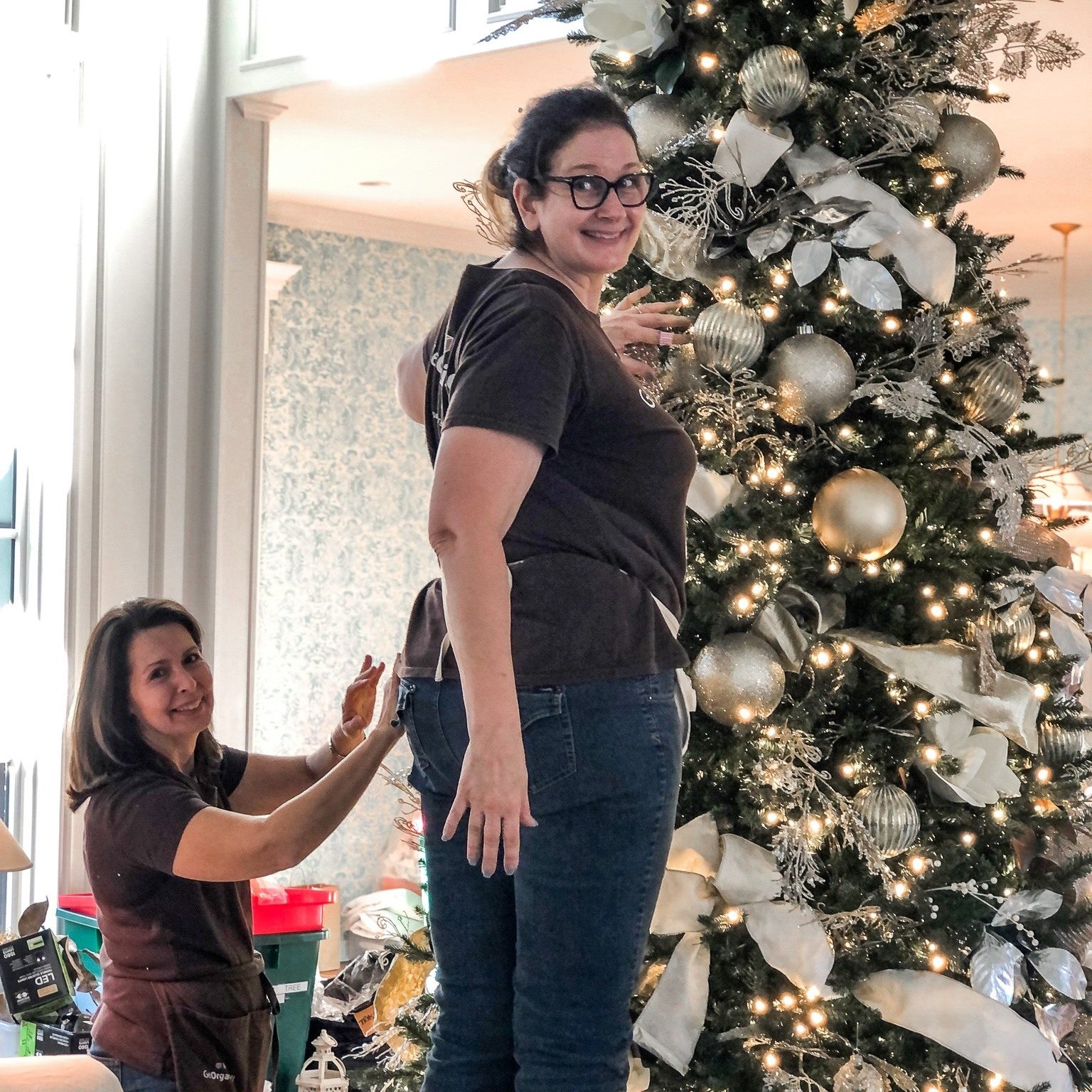 Starting the Job
Depending on the plan of action discussed at the consultation, our clients might be given some homework to have completed prior to our arrival such as basic purging, gathering supplies, and removing everyday items from areas where holiday décor will be placed. Homework is NOT required of the client but is suggested to maximize time on decorating days. Some clients may choose to work alongside our decorators, while others prefer to make themselves available for questions but let our team do all the work. Our team is happy to work based on the needs of the client.
Note: Our organizers do not break down or set up computer or electronic equipment during decorating or takedown. However, we do offer IT services including organizing digital photos and digital files, syncing devices, and more. IT service areas may be limited, and IT rates differ from our decorating rates.
The decorators at Get Organized! are being paid only while on a scheduled job. It is important that as a client you allow time before the end of your appointment to go over the plan of action. This includes homework assignments and supplies needed to complete your job. Remember to take notes on the discussion at the consultation and subsequent appointments so you will be able to recall important information without having to contact your organizer(s) after work hours.
Our decorators take a 15-minute lunch break on any job over 4 hours. This allows the decorator(s) and client to re-energize and regroup. Part of making any home magical is getting to know the things that make your family unique. Often our lunch break conversations lead to a better understanding of your needs. This break is included in the hourly billing.
If you require "after hours" consulting (action planning, brainstorming, etc.) with your lead decorator, you will be charged our standard hourly rate for one decorator. The decorator will keep track of the time spent on phone calls, texting, and email, and you will be billed monthly. We understand some clients want more access to their decorator, so we offer this service at an additional charge.
It is always our goal to provide exceptional customer service and compensate its decorators for their work after hours. Please be aware of this policy so a bill for this service does not come as a surprise.
As always, please feel free to contact your decorator at no additional cost with schedule changes or a quick question. You may also contact our Get Organized! office at any time by phone at 972.841.0738 or via e-mail at Info@GetOrganized.ws.  Note: this number does not receive text messages.
Note: If decorator(s) arrive at your home/office and you are not there on the scheduled day, you will be charged a $100 no show fee plus mileage if applicable.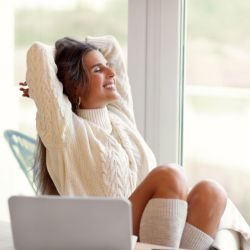 Completing the Job
Our holiday decorating services do not have to end with the enjoyment of a beautiful home for the holidays. We offer takedown services including taking down your tree and packing up all décor. Additionally, we offer our professional organizing services to get your home spruced up for the new year.
Additional Information About Rates and Policies
We are often asked to quote how much a job will cost. Due to the many variables in each job, we do not estimate jobs over the phone. Since we bill organizing jobs at an hourly rate, we try to estimate the time a job will take during the scheduled consultation.
How long a decorating job will take depends on:
The amount of everyday clutter that must be handled before the decorations can be placed
The ease of access to current decorations
Whether the client will be working with us
How quickly you make decisions
Whether we will be assembling or putting together décor items such as trees and lighting
Your willingness to do suggested homework after the consultation to get ready for decorating day
The amount of interruptions you have (phone, email, texting, visitors, kids, etc.)
Estimates are for services only and do not include additional expenses such as mileage, surcharges, supplies, shopping, etc. Final billing may vary from initial estimate or quote based on additional expenses.
After the initial consultation, our decorating jobs are billed hourly. We require a five (5) hour minimum per day, although most decorating jobs need at least eight (8) hours the first day. Hours are determined by, but not limited to, projections of time spent de-cluttering areas to decorate, unpacking decor, building products, decorating, and time spent researching for special items requested by the client. Research and shopping time outside of scheduled work days will be billed additionally upon approval by the client.
Due to our safety needs when decorating such as climbing ladders and working around and under furnishings and on stairwells, Get Organized! requires two decorators on all scheduled jobs.
To cancel your appointment with Get Organized! without incurring a charge, call 972.843.1977 (24 hours/7 days a week) at least 48 hours before your appointment and leave a detailed message. We will call back to reschedule the appointment at a mutually agreed upon day and time. We understand sometimes this will be impossible. Each client is allowed ONE (1) NO-CHARGE cancellation or reschedule with less than 48 hours' notice. Exception: If a client cancels/reschedules once organizer(s) is en route to their home, it falls under our No Show Policy (see below) and will incur a no show fee of $100. If a client continues to have cancellation and rescheduling issues without appropriate notice, a fee of $100 will be charged for each instance thereafter.
In instances where excessive rescheduling and cancellations occur (3 or more, even with a 48-hour notice), clients will be charged a $50.00 rescheduling/cancellation fee per appointment. If it continues, we may ask the client to find another organizer best suited for his/her scheduling needs. Excessive rescheduling disrupts our service to other clients and negatively impacts our organizers' ability to earn income. Please consider your dates and times carefully when booking your appointments. Get Organized! desires to give every single client our absolute best.
In instances where excessive rescheduling and cancellations occur (3 or more, even with a 48-hour notice), clients will be charged a $50.00 rescheduling/cancellation fee per appointment. If it continues, we may ask the client to find another organizer best suited for his/her scheduling needs. Excessive rescheduling disrupts our service to other clients and negatively impacts our organizers' ability to earn income. Please consider your dates and times carefully when booking your appointments. Get Organized! desires to give every single client our absolute best.
If organizer(s) is en route to your home or arrives at your home/office for your scheduled appointment and you cancel/reschedule the appointment or request a reduction of the organizing team that has arrived, or if they arrive at your home and you are not at home or ill or have a schedule conflict and are unable to keep the appointment, you will be charged a $100 no show fee plus mileage if applicable. Read the Cancellation Policy above for more information.
When scheduling your consultation, we will obtain your credit card information for billing purposes. We will not bill your credit card for our services until after your appointment in case you choose to pay with cash or check at the time of service. By giving us your credit card information, you accept and agree to our Cancellation and No Show policies.
We accept all major credit cards, cash, or check. If you choose to pay by credit card, Get Organized! will collect your credit card information prior to your organizing appointment. Payments will be processed at the close of each business day services are rendered.
You will receive an invoice via email the day before or the day of your appointment with the total amount due for that day's work. Any changes in the total amount due such as additional hours or products purchased by our decorators will be reflected on the final invoice run through your credit card or recalculated at the appointment when paying by cash or check. A new invoice will then be emailed to you.
Clients who wish to pay by credit/debit card for actual shopping expenses (products) will have an upcharge of 3.5% ONLY on the products purchased but not mileage or hourly rate for shopping. If the client chooses to pay in cash or check, the 3.5% upcharge will be waived. The 3.5% is only being charged to offset credit card processing fees.
CLIENTS ARE NOT CHARGED AN UPCHARGE ON ANY OF OUR SERVICES WHEN USING THEIR CREDIT CARDS.
Flexibility is vital to the decorating process. There may be times when a decorator will come up with a better idea or request additional décor items or takedown storage products for your home. These changes are always discussed and implemented with your approval.
Important Information - Please Read!
To our New and Prospective Clients:
Decorating your home or business is an exciting process, but it takes a lot of work, confident decision-making, and a positive outlook to make it stunning and function well for your family, guests, or clients. Keep in mind that to get the successful results we both want, there may be a few aches and pains along the way.
Many families and businesses do not have the time or energy to create a beautifully decorated home or office for the holidays, but desire to create magical holiday memories. Having a home or business cluttered with boxes while trying to decorate for weeks is stressful and time consuming. Paying for professional decorating services may be the best solution to fully enjoying the holiday season.
We not only want to make your home or business look great, but we also want to create spaces your family and friends will enjoy in the days before and after your celebration. We also want to make takedown painless and the storage of your décor efficient and easy to reproduce the next year.
Organizing a decorating project takes concentration, multitasking, and focus. If a client will be working with us, there may be times you find a long-lost item and you want to stop and reminisce. Our team member will ask you to refocus on the task at hand. Having your full focus on the process will make it go faster and produce the result you want. It is best not to double-book yourself with other events and people on decorating days unless we have discussed this beforehand.
We look forward to helping you Get Organized for the holidays!
Organizing for Home, Business, & Life